As I told a couple of weeks ago, I'm one of the lucky one's who got in Inspired Blueprints' design team. Here's my formal introduction.
Located
|
the Netherlands
Preferred scrapbooking medium |
12x12
What inspired you to begin your creative journey?
The first time I ever saw a scrapbook page my husband and I were in Florida on vacation. I loved it, but at that time, as far as I knew, it wasn't known in the Netherlands. It wasn't until a couple of years later I stumbled over a Dutch scrapbooking magazine. I bought it, but at that time I was hooked on another hobby (making jewellery) so I didn't do anything with it. It wasn't until we bought a puppy, that I really wanted to do something with it. To be sure that I knew what I was doing, I took a beginners workshop. I was hooked right away. It took a while to find out which style I really liked, but then... Well, just take a look at the things I'll be posting for Inspired Blueprints, or take a peak on my blog.
If you were to describe your scrapbooking style in five words, what would they be?
Vintage
chic
/ romantic / sometimes side step to mixed

media.
What type of camera do you use?
a reflex camera (Nikon D3200).
Where do you do most of your scrapbooking?
Since my husband made me a scrapbooking room, I'm using it for about 99% of the times. The other percent is on the couch in the living room.
What time of day are you most creative, and what inspires you to create?
Since I mostly wake up in the wee hours of the morning (I wish sometimes I could sleep late), I'm most productive in the early mornings, but... when I got this idea in my head that just has to come out, I can easily go on scrapbooking until somewhere around 03.00 a.m. (only in weekends).
Why do you love sketches?
I guess because it's kind of challenging. Especially when you're 'forced' to make something different then you would make by your self.
-----------------------------------------
Jolanda has described her scrapping style to a tee! Check out her vintage chic and romantic spin on Inspired Blueprints sketch 74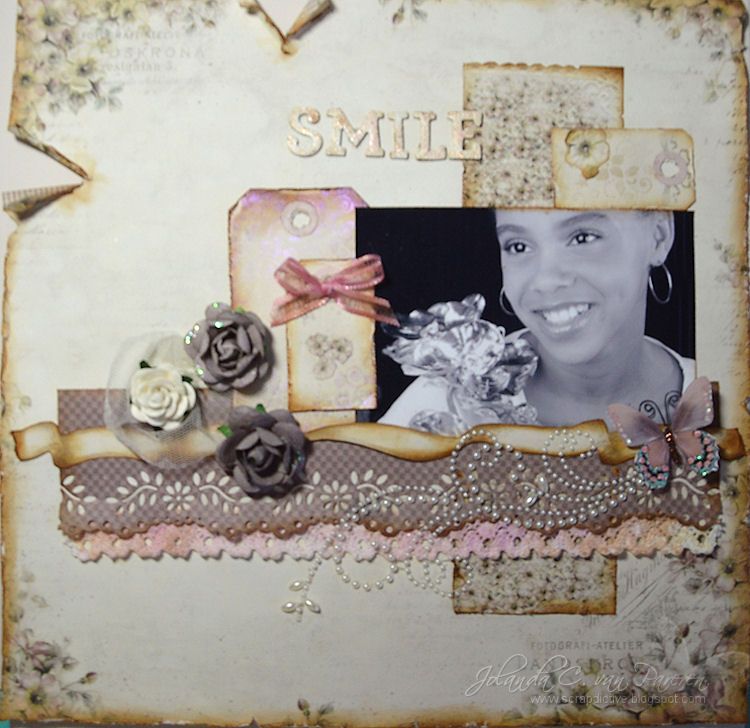 Inspired Blueprints | Sketch 74

Also, did you know that Inspired Blueprints has a
blog
and a
ning site
? You sohould take a look at them both and please, don't hesitate to sign up.
I hope to see you there!
Toodles,