Well, I guess it really has been a while since my last blog message. Due to some private medical stuff, followed by a whole lot of visits to the vet with our cat Homeboy (R.I.P.) and a lack of mojo, I haven't done anything creative. Lately I had this feeling that I should really start making visits to my scraproom again and so I finally did last weekend.
I started out with this small canvas just to try and get familiair again with scrapbooking and all that's related to it.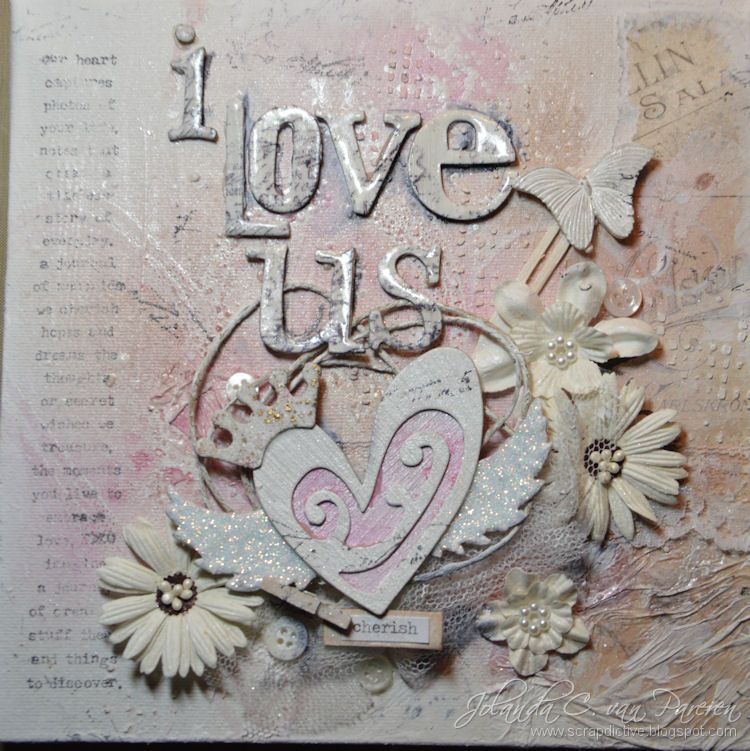 Supplies
: canvas, gesso, "Studio of Memories" by Pion Design, Tim Holtz dies ("Worldplay", "Heart Wings"), TCW template "Mini Tile Texture", butterfly embellishmentsby Melissa Frances, Glimmer Mist by Tattered Angels, tule, cord, buttons, stamps by Stampers Anonymous and Prima Marketing, flowers.
Another thing that I haven't done for a long, long time is baking cakes. Not that I used to do that on a weekly basis, but I think I haven't baked a cake and 'played' with marsepin and/or fondant in about almost two years. It as fun doing it again.
Since I want to gain any weight, I'm not going to make a cake every week/month, but I am going to make some more of them.
It's funny to see that my scrapbooking style kind of resembles the way I like to decorate a cake.
Well, that's all for now.
Until next time.
Toodles,